This website requires cookies to function properly
We only use functional cookies that are required to allow you to: send us messages using the contact form, post messages on the discussion forum, purchase licenses at our Online Store, log in to the license management service ("My Licenses"), store your language, mobile view settings and your consent to accept cookies. You can change your
cookie preferences
at any time.
The terms of this Privacy Policy will apply to all personal data that we handle.
Not now
Yes, I accept cookies
RadiAnt DICOM Viewer - Discussion Forum
3D Cursor in RadiAnt DICOM Viewer 4.5.8 BETA
Mar 2, 2018 08:12 AM by

The wait is over. This small but highly desirable feature is now available in the latest beta version.
Just press Ctrl + Shift + Left mouse button and move the crosshair cursor in one viewport to synchronize its 3D position in other viewports. If the cursor is in some distance away from the plane it is displayed in red color.
https://www.radiantviewer.com/beta/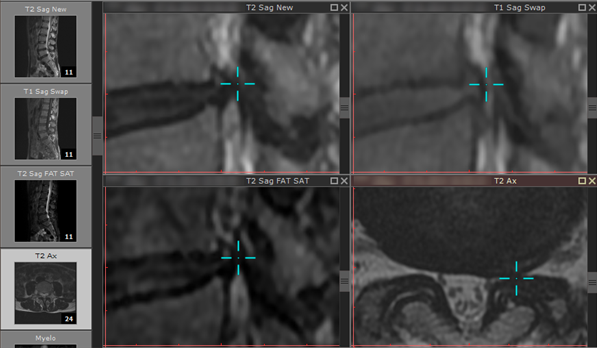 Mar 2, 2018 07:25 PM by Ageev
It works just as planned! It`s great! Thank you.

Now when subtraction will be available I`ll be ready to sold out Mac and use RadiAnt only ))
Mar 3, 2018 06:26 PM by

We have another small update - version 4.5.9

You can now choose the 3D cursor tool from the "Measurements and tools" menu on the toolbar. Or use 'Q' key to select it.

All basic tools can now be assigned to different key modifier + mouse configurations. Just select "Customize keyboard" from the "Help" menu and type "Mouse" to display all possible mouse button/tool pairs. You can assign Ctrl, Alt, Shift or their combinations to the specific mouse button/tool. So for example you could make RadiAnt draw Length using Ctrl + Right mouse button and draw Ellipse using Shift + Right mouse button.
Mar 4, 2018 09:07 AM by Tommy
I remapped the cursor from the "Q" key to the "Alt" key
if works at first try, then if you change tool (i.e. "L" for line measures) then you click back the "Alt" key it doesn't activate the 3D cursor again.
Mar 4, 2018 09:09 AM by

'Q' key is mapped to the permanent selection of 3D cursor.
You need to remap the Ctrl+Shift shortcut ("MouseModifiers.LeftButton.3DCursor" command).
Mar 4, 2018 01:45 PM by Tommy
got it. it works.
Mar 6, 2018 06:58 AM by Ismail Kabakus
It is so great to see Radiant (the most effective DICOM viewer in my eyes) now has this feature. There is no word to express my gratefulness.

By the way it works smooth.

Mar 6, 2018 10:49 AM by

Thank you, Ismail. We're happy to see the work we do is appreciated :-)
Mar 8, 2018 09:04 AM by Tommy
the 3D cursor was a major improvement, indeed.

so, what's next? :-)
Mar 9, 2018 05:40 PM by

Tommy, we have one in mind - a local database of studies.
Mar 15, 2018 01:38 PM by marcelvn
A local database will be great. It opens expectations to come with a DICOM listener function, should we hope for it?

I would like to see a customizeble print layout for images, any chances?
Mar 16, 2018 10:26 AM by

Sure, you will be able to push DICOM studies from servers/modalities to RadiAnt when the local archive is ready.
Currently no printing features are planned in the near future.
Jun 4, 2018 04:11 AM by Perebre MD
Great feature.. even the famous DICOM viewer from OSX doesn't have this feature (it only allows it on MPR viewer).


I love RadiAnt! A local database of studies must be the next step please!
And let me dream of other features like...
- Spine Labeling
- Synchronise 3D MPR,
- Synchronise the window behavior (When im comparing 2 studies, once you click on "sync window" and you switch to the next series and both studies change to the next series).
- Allow to collapse the thumbnails if a patient has many studies.
- Add a sidebar where the measurements that you do are saved and than simply clic on the sidebar to see where the meassurment was made (idealy por pulmonary nodules).


Jun 11, 2018 07:27 AM by

@Perebre MD

Thank you for your kind words and suggestions!
In fact, a local database is in the works right now.
Post reply