This website requires cookies to function properly
We only use functional cookies that are required to allow you to: send us messages using the contact form, post messages on the discussion forum, purchase licenses at our Online Store, log in to the license management service ("My Licenses"), store your language, mobile view settings and your consent to accept cookies. You can change your
cookie preferences
at any time.
The terms of this Privacy Policy will apply to all personal data that we handle.
Not now
Yes, I accept cookies
RadiAnt DICOM Viewer - Discussion Forum
GPU accelerated Volume Rendering benchmark
Mar 11, 2018 10:01 PM by

With the new version featuring GPU accelerated volume rendering just around the corner, we would like to take this opportunity to publish some interesting benchmark results.

The difference between CPU and GPU performance, as far as volume rendering is concerned, is remarkable. Just have a look at this chart.

Summing up, a powerful NVIDIA GeForce card (like GTX 1080Ti) will let you enjoy fluid, non-pixelated, full-screen, interactive volume rendering in RadiAnt DICOM Viewer.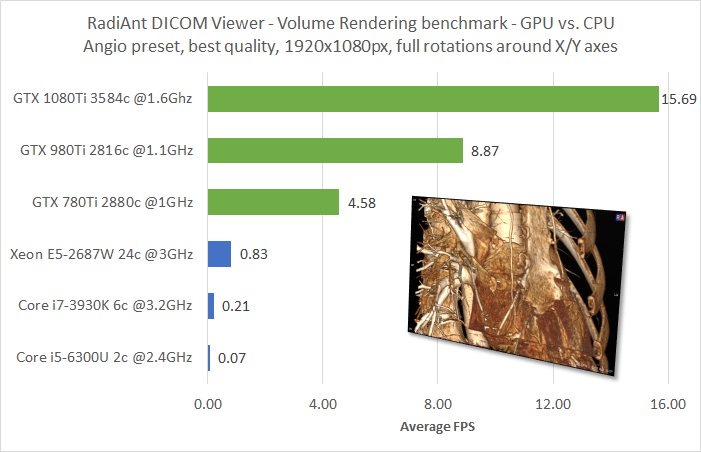 Mar 12, 2018 07:26 PM by Lucio
Please, did you think to release in the next future also a working version for AMD graphic cards?
Mar 15, 2018 08:05 AM by

Sorry, but no AMD support is planned in the near future...
RadiAnt uses CUDA programming model available only on NVIDIA GPUs.
However, it's possible that we will reimplement our code for AMD GPUs in the more distant future.
Post reply