This website requires cookies to function properly
We only use functional cookies that are required to allow you to: send us messages using the contact form, post messages on the discussion forum, purchase licenses at our Online Store, log in to the license management service ("My Licenses"), store your language, mobile view settings and your consent to accept cookies. You can change your
cookie preferences
at any time.
The terms of this Privacy Policy will apply to all personal data that we handle.
Not now
Yes, I accept cookies
RadiAnt DICOM Viewer - Discussion Forum
It's finally here - GPU accelerated Volume Rendering!
Dec 19, 2017 05:26 PM by

Our latest beta versions (4.5.1) adds the GPU acceleration for 3D VR mode.
https://www.radiantviewer.com/beta/
Volume rendering is started in the GPU mode by default (if a supported graphic card is detected).
Press F9 to switch between GPU and CPU modes.
This feature is available on modern Nvidia graphic cards:
GeForce GTX 770, GeForce GTX 760, GeForce GT 740, GeForce GTX 690, GeForce GTX 680, GeForce GTX 670, GeForce GTX 660 Ti, GeForce GTX 660, GeForce GTX 650 Ti BOOST, GeForce GTX 650 Ti, GeForce GTX 650, GeForce GTX 880M, GeForce GTX 780M, GeForce GTX 770M, GeForce GTX 765M, GeForce GTX 760M, GeForce GTX 680MX, GeForce GTX 680M, GeForce GTX 675MX, GeForce GTX 670MX, GeForce GTX 660M, GeForce GT 750M, GeForce GT 650M, GeForce GT 745M, GeForce GT 645M, GeForce GT 740M, GeForce GT 730M, GeForce GT 640M, GeForce GT 640M LE, GeForce GT 735M, GeForce GT 730M, GeForce GTX Titan Z, GeForce GTX Titan Black, GeForce GTX Titan, GeForce GTX 780 Ti, GeForce GTX 780, GeForce GT 640 (GDDR5), GeForce GT 630 v2, GeForce GT 730, GeForce GT 720, GeForce GT 710, GeForce GT 740M (64-bit, DDR3), GeForce GT 920M, GeForce GTX 750 Ti, GeForce GTX 750, GeForce GTX 960M, GeForce GTX 950M, GeForce 940M, GeForce 930M, GeForce GTX 860M, GeForce GTX 850M, GeForce 845M, GeForce 840M, GeForce 830M, GeForce GTX Titan X, GeForce GTX 980 Ti, GeForce GTX 980, GeForce GTX 970, GeForce GTX 960, GeForce GTX 950, GeForce GTX 750 SE, GeForce GTX 980M, GeForce GTX 970M, GeForce GTX 965M, Nvidia TITAN Xp, Titan X, GeForce GTX 1080 Ti, GTX 1080, GTX 1070 Ti, GTX 1070, GTX 1060, GTX 1050 Ti, GTX 1050, GT 1030, MX150, NVIDIA TITAN V, Quadro K5000, Quadro K4200, Quadro K4000, Quadro K2200, Quadro K2000, Quadro K2000D, Quadro K600, Quadro K420, Quadro K500M, Quadro K510M, Quadro K610M, Quadro K1000M, Quadro K2000M, Quadro K1100M, Quadro K2100M, Quadro K3000M, Quadro K3100M, Quadro K4000M, Quadro K5000M, Quadro K4100M, Quadro K5100M, NVS 510, Quadro K6000, Quadro K5200, Quadro K1200, Quadro K620, Quadro M2000M, Quadro M1000M, Quadro M600M, Quadro K620M, NVS 810, Quadro M6000 24GB, Quadro M6000, Quadro M5000, Quadro M4000, Quadro M2000, Quadro M5500, Quadro M5000M, Quadro M4000M, Quadro M3000M, Quadro P6000, Quadro P5000, Quadro P4000, Quadro P2000, Quadro P1000, Quadro P600, Quadro P400, Quadro P5000(Mobile), Quadro P4000(Mobile), Quadro P3000(Mobile)
Dec 21, 2017 01:49 AM by Luiz
can`t use GPU rendering in my notebook, only CPU, NVIDIA GTX970M, F9 does not switch
Dec 21, 2017 12:17 PM by Carlo
Please, add this feature for AMD Vega64 gpu?
Dec 22, 2017 05:51 PM by

@Luiz
Make sure that you have the latest GeForce drivers installed:
https://www.geforce.com/drivers
@Carlo
We will explore the possibility of supporting AMD GPUs in the future.
Dec 23, 2017 04:01 PM by Marcel
Any chance to see improvements in Intel HD graphics?
Jan 1, 2018 01:45 PM by tomb745
So many of us work with ultrabooks with build-in graphic accelelators - please do consider it in your plans.
Jan 7, 2018 03:02 PM by Tommy
I have a Win7 x64 computer with an NVIDIA QUADRO FX 3700 card.

I don't see it on the list... does this mean that it's not supported?
Jan 9, 2018 04:31 PM by

@Marcel & @tomb745

Current Intel HD graphics are not very well suited for Volume Rendering. They substantially lack power required for computational efforts in VR. Creating VR images is very different from rendering game scenes.

@Tommy

Quadro FX 3700 supports the 1.1 version of Compute Capability.
RadiAnt requires at least CC version 3.0 (the most recent is 7.0).
You basically need the Nvidia graphics card released within last 5 years. Yours is 10 years old.
Jan 9, 2018 06:13 PM by Tommy
Ok, I understand.
Jan 25, 2018 11:52 AM by Kiril
1050Ti with latest drivers (390.65). Radiant does not switch to gpu rendering. Drivers and programm also reinstalled.
Jan 27, 2018 09:32 PM by Stefan
- I want to see the DICOM Header and search in it

Feb 3, 2018 03:56 PM by

Kiril, please try our latest beta (4.5.5). It seems that there was a library missing in the 4.5.3 setup file.

Stefan, just press CTRL+ALT+T when viewing a DICOM file.
Feb 11, 2018 05:24 PM by Michael Tran
Dear Radiant

Just need your advice for select Graphic card : GeForce GTX or quadro is better one for VR.
Some guy told me that GTX for gaming, not rendering .
is that true ?

Thank you

Feb 20, 2018 05:31 PM by

You'll be better off with a fast GTX card (1080ti or Titan). GPU acceleration was designed with the consumer cards in mind.
Apr 30, 2018 04:38 PM by crow
To all having issues switching to GPU mode on laptops, you need to add radiant to your nvidia control panel program options and set to always use nvidia for this program.

@Radiant team

I don't know if I've missed it, but is there an option to save the 3d reconstruction to a mesh or cad?

Thanks
May 5, 2018 05:20 PM by

@crow

No, currently there is no such option (3D export) in RadiAnt.
Thank you for your tip about GPU on laptops.
May 20, 2018 11:06 AM by vaderbsb
Tried latest version of Radiant using a GeForce GT 730 card. The 3D or MPR simply would not use the GPU. In fact, when I click the settings button I see two options: CPU and the GT 730 but the CPU seems to be always selected.
Checked out card drivers and everything seems to be OK.
Any idea on how to force Radiant to use the GPU?

Thanks!
Jun 3, 2018 05:35 PM by

@vaderbsb

It could be insufficient memory - if the volume data cannot be loaded into GPU RAM, the GPU mode cannot be enabled. We will probably add some error notifications for GPU mode.
Jul 31, 2018 08:00 AM by crow
@RadiAnt

After some update my tip doesn't even work for me anymore. I have dual cards an intel and other nvidia on my laptop. I had to go to BIOS and disable intels integrated. After that i was able to use nvidia for 3d rendering.
Aug 1, 2018 08:12 PM by JJ
JJ here again, going to be a rant session. sorry.

Radiant,

Please take note of how many people here have questions related to laptop related hardware. Many of the people/radiologist using your product are doing so on laptops. they're taking their laptops to conferences and lectures...

With that in mind again I stress the importance of a local library. The people using your product are not using this for advanced post-processing. while generating cool 3d recons is neat and people like doing it quickly on their laptop. I'd recommend that the local library really take a preceding priority so you can gain wider market appeal.

Still a great product.
JJ
Aug 2, 2018 07:17 AM by

@JJ

No worries, it's going to happen ;-)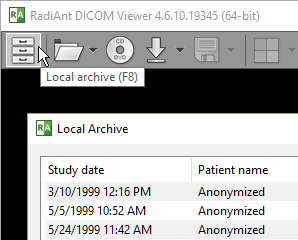 Aug 7, 2018 03:29 PM by JJ
Incredible news guys! I'll be eagerly awaiting this feature. I'd expect to become the defacto dicom viewer for the non-Mac OS platform. Get your servers ready!
Aug 8, 2018 07:24 PM by vaderbsb
Indeed the local database will be a fantastic plus for this software. Just one note for the developers: please make sure that the user can choose the folder and specially the drive where the database is located. This critical for notebook users with a small boot SSD and a larger spinning HD. If only the C: drive is available for the database then we will be extremely limited!!

Aug 21, 2018 08:23 PM by

Surely, the database folder will be configurable.
Post reply