Blog Ufficiale
DICOM Viewers for Veterinary Medicine
April 14, 2019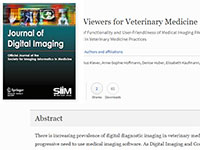 It is not very often that studies comparing different DICOM viewers are published. Recently, eight DICOM viewers were reviewed for use in veterinary medicine in the
Journal of Digital Imaging
.
RadiAnt was named a favorite Windows DICOM-viewer of the observers. Overall it scored 8.90 points (the winning viewer for MacOS got 8.96). For your information, the reviewed version of RadiAnt was 3.4, so many new features and improvements have been added since.
RadiAnt in the ECR 2019 movie
March 30, 2019
RadiAnt DICOM Viewer on macOS Mojave
March 24, 2019
Export 3D models as STL files
March 16, 2019
RadiAnt DICOM Viewer BETA 4.9.15
December 21, 2018
Forum di discussione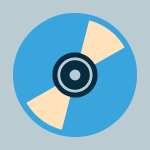 CD/DVD DICOM Viewer del Paziente
Sapete com'è frustrante aspettare all'infinito l'apertura di un CD per un paziente?
Il vostro visualizzatore richiede l'installazione di componenti aggiuntivi prima ancora che le immagini possano essere viste?
Provate
il pacchetto di avvio automatico
RadiAnt DICOM Viewer CD/DVD! E' estremamente veloce, collega i supporti CD/DVD senza installazione su Windows XP SP3, Vista, Windows 7, Windows 8, Windows 8.1 e Windows 10 e non necessita di alcun software o programma aggiuntivo (es: .NET, Java).
Se il sistema operativo dell'utente lo permette, viene utilizzata la versione a 64-bit per una maggiore efficienza. Su macchine più datate, viene usata la versione a 32-bit. Approssimativamente vengono aggiunti ai media solo 6MB di dati di overhead.
L'immagine del logo viene visualizzata dopo aver aperto l'applicazione, è completamente personalizzabile e può essere usata per mostrare le informazioni aziendali ai vostri clienti.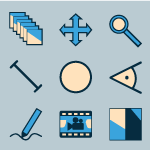 Tutti gli strumenti necessari a portata di mano
RadiAnt DICOM Viewer fornisce i seguenti strumenti di base per la manipolazione e la misurazione delle immagini:
Sistema di spostamento e zoom molto fluido
Regolazione luminosità e contrasto, modalità negativa
Impostazioni predefinite della finestra per la Tomografia Computerizzata (polmoni, ossa, etc)
Possibilità di ruotare (90°, 180°) o capovolgere (orizzontale e verticale) le immagini
Misurazioni di lunghezza
ROI circolari/ellittiche con valori medi, minimi e massimi (ad esempio valori di densità in Unità Hounsfield nella Tomografia Computerizzata) e calcolo dell'area
Misurazioni di angoli (normale e angolo di Cobb)
Strumento Penna per disegnare a mano libera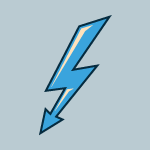 Veloce come un lampo
RadiAnt DICOM Viewer è stato progettato per utilizzare le risorse nel modo più efficiente possibile. E' possibile utilizzarlo in un sistema multiprocessore e multicore con grandi quantità di gigabyte di RAM, ma anche su una vecchia macchina single-core con soli 512 MB di RAM.
Viene fornita una versione a 64 bit per i sistemi più moderni che permette di mantenere tutte le immagini aperte in più di 4GB di memoria, se necessario. La lettura asincrona consente di sfogliare ed elaborare le immagini mentre sono ancora in fase di apertura.
Tutto questo è disponibile in un'applicazione molto compatta che possiede una dimensione di installazione di poco più di 2MB.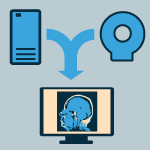 Search and download studies from PACS locations
The PACS (Picture Archiving and Communication System) client feature lets RadiAnt DICOM Viewer query and retrieve studies from other PACS hosts.
Supported service class users/providers are: C-ECHO SCU, C-ECHO SCP, C-FIND SCU, C-MOVE-SCU, C-STORE-SCP (Only transfers initiated from the RadiAnt DICOM Viewer are accepted. If you try to send studies from other PACS nodes without searching them first and starting the download in RadiAnt, they will be ignored).
Received DICOM files are stored in a temporary folder and are deleted when RadiAnt closes.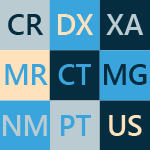 Supporta diversi tipi di file DICOM
Il software ha la capacità di aprire e visualizzare gli studi ottenuti da differenti modalità di immagine:
Radiografia Digitale (CR, DX)
Mammografia (MG)
Tomografia Computerizzata (CT)
Risonanza Magnetica (MR)
Tomografia ad Emissione di Positroni PET-CT (PT)
Ecografia (US)
Angiografia Digitale (XA)
Gamma Camera, Medicina Nucleare (NM)
Immagini secondarie e immagini digitalizzate (SC)
Structured Reports (SR)
Sono supportate molti tipi di immagini DICOM:
Monocromatiche (es: CR, CT, MR) e a colori (es: US, ricostruzione 3D)
Immagini statiche (es: CR, MG, CT) e sequenze dinamiche (es: XA, US)
Compresse e non compresse (RLE, JPEG Lossy, JPEG Lossless, JPEG 2000)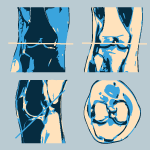 Confronta serie o studi differenti
Possono essere aperte contemporaneamente più serie di uno studio o di diversi studi nelle stesse o in differenti finestre per fini comparativi.
Le serie costituite da immagini acquisite nello stesso piano (ad esempio serie di Computerizzata Tomografica prima e dopo la somministrazione del mezzo di contrasto) sono sincronizzate automaticamente per impostazione predefinita.
Le linee di riferimento incrociato vengono visualizzate per una migliore correlazione dell'anatomia quando si sfogliano le serie con diversi piani di acquisizione (es: esami di Risonanza Magnetica).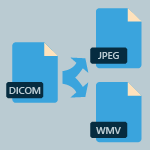 Esportazione di files DICOM come immagini e filmati
Creazione di presentazioni di grande impatto visivo e pubblicazioni professionali - RadiAnt DICOM Viewer può esportare i file DICOM come immagini JPEG (compresso) o come BMP (bitmap non compresso) e filmati WMV (Windows Media Video).
Possono essere esportate simultaneamente un'immagine, un'intera serie oppure tutte le immagini aperte.
Le immagini visualizzate possono essere rapidamente copiate nella clipboard di Windows utilizzando la scorciatoia CTRL + C e possono essere rapidamente e facilmente incollate nei documenti Word o PowerPoint.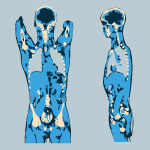 Ricostruzioni Multiplanari
Lo strumento MPR fornito insieme a RadiAnt DICOM Viewer può essere utilizzato per ricostruire le immagini in piani ortogonali (coronali, sagittali, assiali o obliqui, a seconda del piano di immagine di base). Questo può aiutare a creare una nuova percezione dell'anatomia che non era possibile visualizzare utilizzando le sole immagini di base.
Il processo di ricostruzione è estremamente veloce: una serie coronale può essere creata da più di 2000 sezioni assiali CT in circa tre secondi (su un moderno sistema Intel Core i7).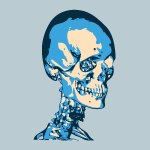 3D volume rendering
The 3D VR (volume rendering) tool lets you visualize large volumes of data generated by modern CT/MR scanners in three dimensional space. The different aspects of the data set can be interactively explored in the 3D VR window.
This tool lets you rotate the volume, change zoom level and position, adjust color and opacity, measure length and show hidden structures by cutting off the unwanted parts of the volume with the scalpel tool. The image is rendered progressively to maintain fluid operations even on slower machines.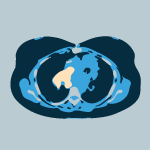 Fusione di immagini PET-CT
Sovrappone un'immagine PET in mappa colorimetrica su una scansione CT per ottenere correlazione anatomica per le regioni con aumento dei valori di assorbimento del FDG (fluorodeossiglucosio).
Utilizza lo strumento ellisse per misurare i valori massimi, minimi e medi di SUVbw (valore di captazione standardizzato calcolato utilizzando il peso corporeo) in un'area specifica.
La fusione delle immagini può essere applicata anche ad altre modalità di visualizzazione, come la risonanza magnetica, ad esempio le immagini DWI possono essere fuse con scansioni pesate in T1 o T2.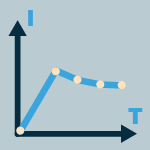 Time-intensity curves
RadiAnt DICOM Viewer lets you visualize the lesions' enhancement behavior (e.g. in Breast MRI) by plotting time-intensity curves (TICs).
Different types of curves can be obtained: Ia - straight (the signal intensity continues to increase over the entire dynamic period) / Ib - curved (the time-signal intensity curve is flattened in the late postcontrast period), II - plateau (the signal intensity plateaus in the intermediate and late postcontrast periods) or III - washout (the signal intensity decreases (washes out) in the intermediate postcontrast period).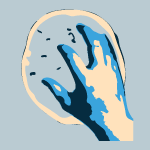 Multi-touch support
If you have a Windows 8 or Windows 10 touch-enabled device, you might find that gestures (motions that you make with one, two or more fingers) are easier to use than a mouse or keyboard. RadiAnt DICOM Viewer enables users to make use of the array of multi-touch gestures:
Touch the image with one finger and move it to browse through images of the displayed series.
To zoom in or out, touch two points on the image, and then move your fingers away from or toward each other. Drag the image with two fingers to move it and show invisible parts of zoomed image.
You can change the window settings (brightness/contrast) by touching the image with three fingers and moving them up/down (brightness) or left/right (contrast).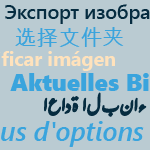 Interfaccia Multilingua
Grazie alla nostra comunità, l'interfaccia di RadiAnt DICOM Viewer è stata finora tradotta in oltre 20 lingue:
Arabo, portoghese brasiliano, bulgaro, cinese, ceco, danese, olandese/fiammingo, francese, tedesco, greco, ungherese, indonesiano, italiano, polacco, portoghese, russo, serbo, slovacco, spagnolo, svedese, turco.
Il nostro
strumento on-line
permette con facilità di modificare le attuali traduzioni e crearne di nuove.