This website requires cookies to function properly
We only use functional cookies that are required to allow you to: send us messages using the contact form, post messages on the discussion forum, purchase licenses at our Online Store, log in to the license management service ("My Licenses"), store your language, mobile view settings and your consent to accept cookies. You can change your
cookie preferences
at any time.
The terms of this Privacy Policy will apply to all personal data that we handle.
Not now
Yes, I accept cookies
RadiAnt DICOM Viewer - Discussion Forum
How is SUV calculated from dicom PET/CT image files
Jul 18, 2018 03:19 PM by Haifang
I fused CT and PET images using your nice software and I get SUVbw in ROI tools. I wonder how this is exact calculated from dicom tags and dicom intensity. I am interested to generate a SUV map.

Thank you!
Jul 19, 2018 07:58 AM by

SUVbw is calculated using the formula shown.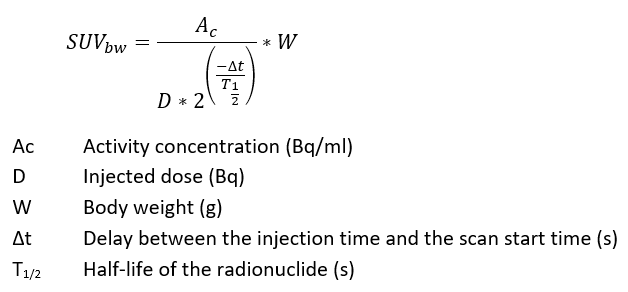 Jul 19, 2018 08:17 PM by Haifang
Thank you for your quick reply. I tried this formula with my PET/CT data. My calculated result are close but not exactly the same as Radiant reported.

PET ROI: mean=10857.29 Max=14059.85 Min=6662.94
SUV same ROI: mean=3.134 Max=4.059 Min=1.924

Relevant DICOM header:

(0008,0031) TM 153348 # Series Time
(0008,0032) TM 154644.500000 # Acquisition Time
(0010,1030) DS 100.788 # Patient's Weight
(0018,1072) TM 142110.000000 # Radiopharmaceutical Start Time
(0018,1074) DS 552410034.17969 # Radionuclide Total Dose
(0018,1075) DS 6586.2 # Radionuclide Half Life

My mean SUV is 3.378 (using series time tag) and 3.400 (using acquisition time).
I must have missed some factor. Any advise?

Jul 20, 2018 12:18 PM by

Please note that this is the support forum for RadiAnt DICOM Viewer software. I'm afraid that solving issues with your own SUV calculations is beyond the scope of support that we can provide here.
Jul 20, 2018 01:44 PM by Haifang
Okay. Thank you!
Post reply