RadiAnt DICOM Viewer on macOS High Sierra
July 4, 2018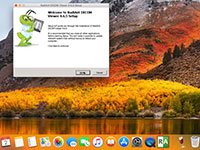 We have refreshed the tutorial showing how to install RadiAnt on Mac computers.
This video depicts
the installation process on the latest macOS High Sierra systems.
Disclaimer: RadiAnt DICOM Viewer is built and tested specifically for Windows platform. We do not officially support RadiAnt on platforms other than Windows. RadiAnt can technically run on macOS systems using the open-source Wine software, however, some features may not be available or may cause program crashes.
https://www.youtube.com/watch?v=pVtvbuFrtNI
RadiAnt DICOM Viewer 4.6.5
June 14, 2018
General Data Protection Regulation
May 23, 2018
Volume Rendering Benchmark
March 12, 2018
3D Cursor in RadiAnt DICOM Viewer 4.5.9 BETA
March 5, 2018
RadiAnt DICOM Viewer 4.5.5 BETA with 3D presets
February 6, 2018
2018 (6)
2017 (6)
2016 (8)
2015 (11)
2014 (7)
2013 (10)
2012 (8)
2011 (6)
2010 (11)
All posts