This website requires cookies to function properly
We only use functional cookies that are required to allow you to: send us messages using the contact form, post messages on the discussion forum, purchase licenses at our Online Store, log in to the license management service ("My Licenses"), store your language, mobile view settings and your consent to accept cookies. You can change your
cookie preferences
at any time.
The terms of this Privacy Policy will apply to all personal data that we handle.
Not now
Yes, I accept cookies
RadiAnt DICOM Viewer - Discussion Forum
Some database local archive
Oct 6, 2018 10:50 AM by Eisenhorn
Oh THANK YOU for Radiant! You and Radiant GENIUS!

Please may be you can say about WHEN? When we will get - Oh thank you - that option?
Oct 8, 2018 07:24 AM by

I think that we will have an early beta version ready before the end of October. The functionality will be very limited, and it will improve with every next beta version. We want to start with a robust DB engine designed with performance in mind and add all the bells and whistles later. So we wouldn't want to raise your expectations just now ;-)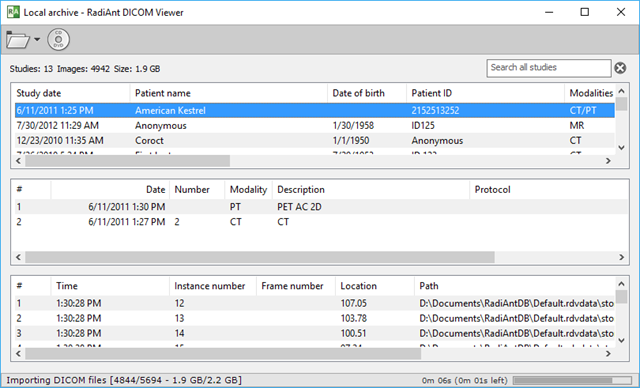 Oct 8, 2018 03:23 PM by Tommy
looks promising!!!

what about the internal storage format?
a kickass feature would be to able to store cases as ZIP files instead of uncompressed DICOM folders.

it would dramatically reduce the space required to store the images and RadiAnt could easily load them in .zip format as well.

it would be the first software to do so... all the PACS viewers I know always store cases as uncompressed DICOM folders.
Oct 9, 2018 02:00 PM by JJ
This is very exciting news!!! I am eagerly awaiting this release. Will be posting suggestions too! Good work Radiant team!

Get those servers ready, you're about to become THE dicom browser for non-mac users. I'll be certainly spreading the news at my institution.
Oct 16, 2018 09:03 PM by

First public beta is almost ready. Drop us a line at
https://www.radiantviewer.com/contact/
to preview it before anyone else ;-)
Oct 17, 2018 07:22 AM by Eisenhorn
Oh thank you! I send you my email, please, I need that preview!
Oct 17, 2018 07:55 AM by Eisenhorn
Thank you for beta! It's brilliant! Very simple, very extremely fast! Amazing!

I hope with another versions pacs files will get into the database itself. Right now it seems it can be done only manually through the imort wild folder. But Thank you very much! Amazing work!

Oct 17, 2018 08:01 AM by

Thank you for your feedback :-) Sure, import from PACS will be added in next versions. We just wanted to share with you what we have right now - hopefully a solid basis for the local archive feature that can be built upon.
Oct 17, 2018 08:09 AM by Eisenhorn
Thank you very much for sharing! I think people never see so smart cool program for radiologist and surgions! Radiant - it's a very true high-quality code! With tiny size customer get Great Program surpass all overs with they codes of hundred Mb.
Oct 17, 2018 10:21 AM by

Thank you, Eisenhorn!
Post reply